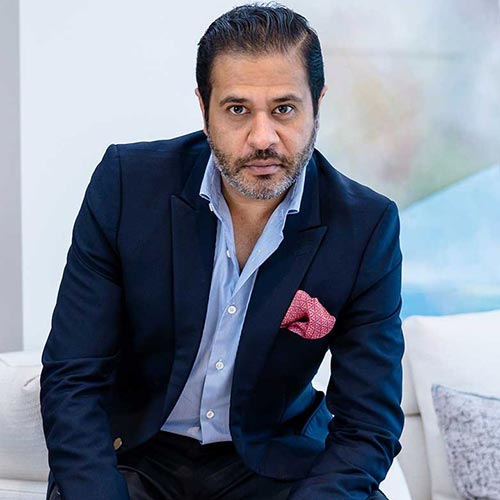 Table of Contents
Introducting Nitin Bhatnagar
Nitin Bhatnagar's journey as a successful entrepreneur and co-founder of Ellington Group has been nothing short of remarkable. With over two decades of experience in the financial services industry, Nitin's career began in investment banking, where he worked for the Bank of Tokyo-Mitsubishi in New Delhi. In this role, he prepared reports on the financial creditworthiness of Indo-Japanese joint venture companies, laying the foundation for his future success.
Executive Positions and Leadership
Over the years, Nitin Bhatnagar's wealth of experience and dedication led him to several executive positions in prestigious institutions. Notably, he served as the Business Development Manager for the Standard Chartered Bank in India and later as the Relationship Manager of the Van Gogh Preferred Banking department for ABN Amro Bank. His exceptional work ethic and leadership skills earned him a promotion to Vice President and Head of Sales of ABN Amro Bank's Dubai office. In this role, Nitin managed a team of sixty Van Gogh Relationship Managers, overseeing operations in India, Pakistan, UAE, and the Middle East.
Venturing into Entrepreneurship
Nitin Bhatnagar's journey into entrepreneurship began when he decided to invest in Ellington Properties in 2014. Then, in 2017, he took on a more active role in managing the company. Under his visionary leadership, Ellington Properties has flourished, boasting a portfolio of over eighteen residential projects. Nitin's innovative approach and commitment to bridging market gaps have been the driving force behind the company's success.
Diverse Business Interests
In addition to his involvement in the real estate sector, Nitin Bhatnagar is the Founder and Promoter of Canarax Trading LLC, a successful trading and manufacturing business dealing with metals and other materials. He is also associated with Quantum Capital Management Consulting, showcasing his diverse business interests.
Vision and Market Solutions
When asked about the inspiration behind his successful career, Nitin Bhatnagar attributes it to identifying gaps in the market and exploring innovative solutions. He firmly believes in bridging the divide between quality apartments and affordability, a vision that led to the creation of Ellington Properties.
A Day in Nitin's Life
A typical day in Nitin Bhatnagar's life starts with reading global news, enabling him to make informed decisions and identify opportunities for his businesses. After spending quality time with his family, he heads to the office to engage in meetings with his team and clients. Nitin's involvement with Ellington Properties encompasses high-level decision-making, including new plot purchases, joint ventures, project development, and design.
Continuous Dialogue for Growth
One of Nitin Bhatnagar's most valuable habits as an entrepreneur is engaging in continuous dialogue with his colleagues. By sharing ideas and fostering discussions, Nitin and his team are constantly exploring new opportunities, ensuring that their vision remains aligned with their colleagues.
Learning from Failures
Through his journey, Nitin Bhatnagar has learned from past failures, particularly in attempting to venture into multiple businesses simultaneously. Over time, he recognized the importance of focusing on one idea at a time, ensuring its success before moving on to the next opportunity.
Advice to Aspiring Entrepreneurs
When asked about his advice to aspiring entrepreneurs, Nitin Bhatnagar emphasizes the significance of working hard while taking time to enjoy life. He believes that success is truly rewarding when one finds joy in life's moments.
A Unique Perspective on Human Nature
One unique perspective Nitin Bhatnagar shares is the belief that every person has three faces – the face shown to the world, the face revealed to close friends and family, and the truest reflection of one's self hidden from everyone else. This understanding of human nature shapes his approach to business and relationships.
Ellington Properties: Boutique Development for Luxury Living
Ellington Properties stands out as a boutique development company, offering luxury properties at affordable prices. Nitin Bhatnagar's dedication to innovative architecture and design ensures that each project is tailored to meet individual preferences, setting the company apart from its competitors.
Recognitions and Industry Leadership
The success of Ellington Properties has not gone unnoticed, earning the company numerous accolades and recognitions, including prestigious awards from the International Property Awards. Nitin Bhatnagar's commitment to quality and service has propelled the company to become a recognized industry leader.
Future Vision and Global Expansion
Looking towards the future, Nitin Bhatnagar and his partners envision expanding Ellington Properties globally, aiming to leave their mark on international real estate markets. Despite their remarkable achievements, Nitin and his team remain focused on continuous growth, embracing each day as a new opportunity to set higher goals and achieve greater success.
Conclusion
In conclusion, Nitin Bhatnagar's journey from investment banking to becoming a visionary entrepreneur leading Ellington Properties is a testament to his perseverance, creativity, and innovative spirit. His commitment to bridging market gaps and providing luxury living at reasonable prices has made him a driving force in the real estate industry. With his eye on the horizon, Nitin continues to shape the future of Ellington Properties, setting new standards of excellence in the ever-evolving world of real estate.