You know marketing is key to your success if you're a real estate agent. You may have tried traditional methods like print ads and billboards, but have you considered vlogging? Vlogging (or video blogging) is a great way to connect with potential clients and show them what life is like in the neighborhoods you represent. We will discuss how vlogging can help your real estate marketing efforts and give you some tips on getting started.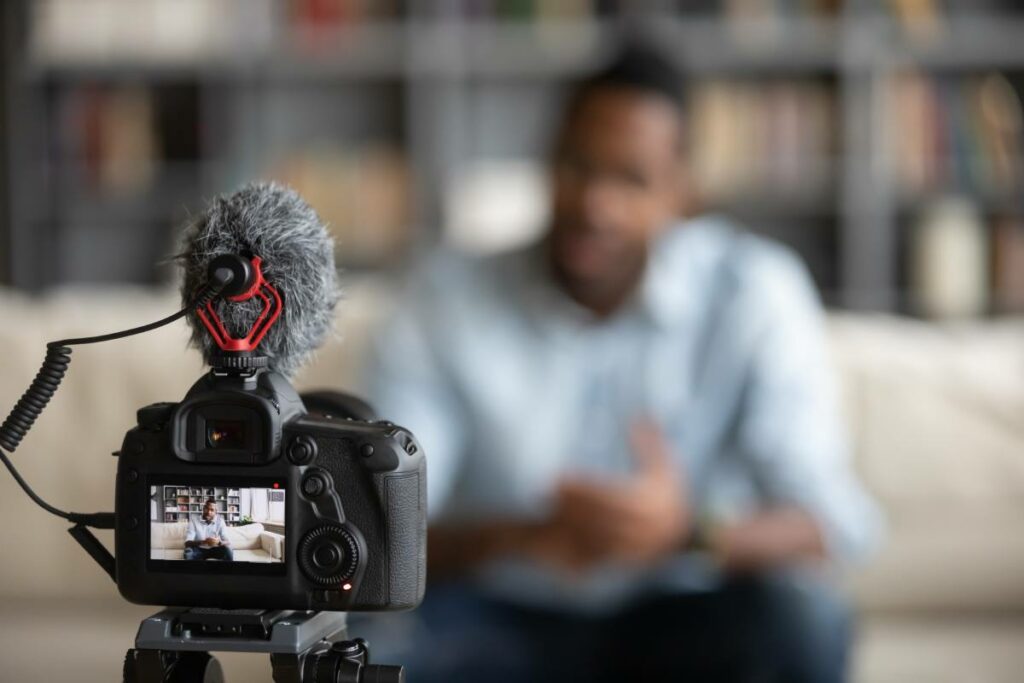 What Is Vlogging? How Can It Apply To Real Estate?
Real estate agents are always looking for new ways to market their properties and attract potential buyers. One relatively new tool that is becoming increasingly popular is vlogging. Short for video blogging, Vlogging involves creating and posting regular videos documenting your life and working as a real estate agent. While some vloggers focus primarily on entertaining their viewers, others use their videos to offer helpful advice and tips. When used correctly, vlogging can be an excellent way to connect with potential buyers and establish yourself as an expert in the field.
Vlogging offers several advantages over more traditional forms of marketing. For one, it allows you to reach a wider audience with your message. You can post your videos on social media sites like YouTube and Facebook, which gives you the potential to reach thousands (or even millions) of people with your marketing message.
Vlogging helps you build trust and credibility with your audience. Potential buyers are much more likely to work with an agent they know and trust, and vlogging is an excellent way to build that relationship. Finally, vlogging is relatively inexpensive and easy to do, making it a perfect option for agents who are on a tight budget.
Benefits of Using Video Content In Your Marketing Mix
As a real estate agent, you always look for new ways to reach potential buyers. You may have tried traditional methods like print ads and billboards, but have you considered using video content in your marketing mix?
Industry professionals say video is a powerful marketing tool that can be used to reach potential buyers who might not respond well or at all through other means. This makes it an excellent choice for those looking to build trust with their audience, as people will feel more inclined towards working together due simply to know each other better than strangers would in this case.
Vlogging also helps establish credibility since viewers know exactly how someone looks when they're on camera doing something routine – rather than just reading about them via text message/email, etc., which isn't always true if you happen to come across one while browsing social media sites.
How To Get Started With Vlogging For Your Business
You're on the right track if you're considering using video to promote your business. Online video is more popular than ever, and companies that use video content have a leg up on the competition. But how do you get started? Here are some tips:
First, decide what type of videos you want to create. Do you want to showcase your products or services? Give customers a behind-the-scenes look at your company? Introduce customers to your staff? Once you know the purpose of your videos, you can start planning their content.
Next, invest in some essential video equipment. You don't need anything fancy – a smartphone and a tripod will do the trick. If you want to get a little more creative, consider investing in a microphone and some editing software.
Finally, start filming! Don't worry about being perfect – just hit record and let your personality shine through. Remember to promote your videos once published, and keep an eye on your analytics to see how viewers respond. With a little effort, you can start using video to reach new customers and grow your business.
Tips For Creating Engaging And Effective Vlogs
Now that you know the basics of vlogging, it's time to start creating your videos. Here are some tips to help you get started:
First, keep it accurate. Viewers want to see the real you, so don't try to be someone you're not. Be natural, be yourself, and let your personality shine through.
Second, make it informative. While entertainment is essential, viewers will also appreciate helpful information they can use in their lives. Consider offering tips and advice on topics related to your business, such as home buying or selling, remodeling, or interior design.
Third, keep it short. Most people have short attention spans, so keep your videos under five minutes. If you have a lot to say, consider splitting your content into multiple videos.
Fourth, promote your videos. Once you've published your vlogs, promote them on social media and other channels. You can also embed them on your website or blog for additional exposure.
Fifth, get creative! There are endless possibilities for vlogging, so don't be afraid to experiment and have fun with it. Be creative with your content, format, and delivery; you're sure to engage viewers and stand out from the competition.
Final Thoughts
Vlogging is a great way to reach potential customers and promote your business. With its personal touch and engaging content, video can be a powerful marketing tool for any business.